Top 10 Tips For Buying The Perfect Bra | Expert Bra Shopping Advice
|
If you've ever gone bra shopping and come home with one that doesn't fit right, you know how frustrating the experience can be. For such a small item of clothing, bras can be the hardest to buy. With that in mind, we wanted to share some bra fitting tips for making your next bra shopping trip your best yet.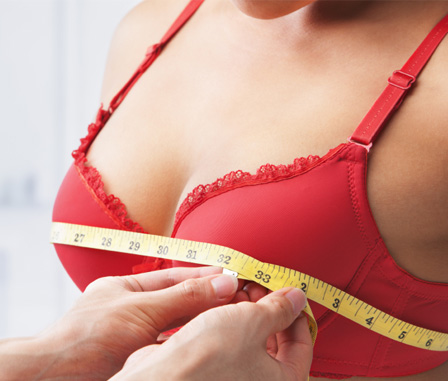 To get some expert advice, we turned to Jené Luciani, bestselling author of The Bra Book (BenBella Books, 2009). She shares her top 10 tips for buying a bra that fits perfectly.
Go to the right place
Choose a store that has a wide selection of bras and trained bra fitters on hand. Measure yourself first as a guideline so you know where to start looking once you get there.
Make a list
Go to the store armed with a list of what bras you need and plan to buy. This will vary from person to person but two nude bras, two black bras, one strapless, one sports bra and one bra without underwire for comfort is a good starting point.
Know your body type
Be aware of your body type so you know what bras to look for. For example, if you are more of a top-heavy "apple" shape, you will likely be looking for fuller coverage bras, not demi-cups. If you're not sure what type you are, a full guide by body type can be found in Luciani's guide to all things bras, The Bra Book.
Check transparency
Wear or bring a thin T-shirt to the store so you can see what each bra looks like under the sheerest of circumstances. You don't want any surprises the first time you wear it!
Be open-minded
about your size
If you're surprised (or disappointed), remember that the bra size is just a number (and a letter). The proper fit of the bra is the most important part.
6
Be flexible
If you're in a bind and there's a bra that you really love but they don't have your size, it's usually OK to go up a band size and down a cup size – or vice versa.
Have a discerning eye
Don't be afraid to put the bra on and face yourself in the mirror with a critical eye. If you see any gaps, spillage, digging in or other signs of poor fit, it's not the right bra. Turn around and look at the back as well. The back band can be very telling too when it comes to proper fit. There should be no gaping, riding up or bulges.
Get accessories
Don't forget to pick up some bra accessories, too, so you avoid any faux pas depending on what you'll be wearing. Breast petals and double-sided tape are always good to have on hand.
Don't get stuck in a size rut

Write down the date of your visit and be sure to plan another one six months to a year later (bra sizes fluctuate due to weight gain, hormonal changes, aging and other life changes, so it's important to get fitted at least once a year). Bras also need to be replaced every six months to a year due to wear and tear.
Take good care of your bras
Once you make your purchase, it's up to you to take good care of your bra. It's best to hand wash, but if you need to put it in the washing machine, make sure the bra is encased in a protective garment bag. Always air dry – never put your bras in the dryer.
Watch: How to measure your bra size

Almost 80 percent of women wear the wrong size bra, so follow these tips to make sure you pick the right size every time.