The Backless Blouse Designs are Revamping Traditional Saree Looks
|
Whether you have draped a saree before or not, you must have gone through a bunch of them when shopping at a local store with your female family members or just sorting through them online. Saree is one of the most attractive and luring traditional attires in this part of the world, but slowly and steadily turning heads in the west as well. The whole quintessential appeal put forward by a woman draped in a beautiful saree is hard to avoid. The only reason that young women have been keeping away from sarees in the past decade has been the demoralising and old fashion designs on the blouses. They make you look older than you are and bring down the whole appeal of the saree.
The introduction of trendy and latest blouse designs has intrigued the interest of the masses in the saree clad look again. A huge variety of blouse designs have flooded the market. Some of the different varieties include-
Halter neck blouses,

Deep back blouses,

Net sleeve blouses,

Three quarter sleeve blouses,

Designer back blouses,

Net back blouses, and most noticeably
These designs are being customised to fit personal preferences, in order to develop individualistic styles for every Diva who wears them.


How blouses are changing looks?
The revolution in the blouse designs is making sarees more adaptable for the young generation. Blouses today have come to hold a more important status than the sarees themselves. Not only are they brilliant pairing with your sarees, but the whole colour, design and cuts of the blouse are changing the whole demographic of the saree itself. You can pair several blouses with the same saree and get a new look every single time.
For traditional looks,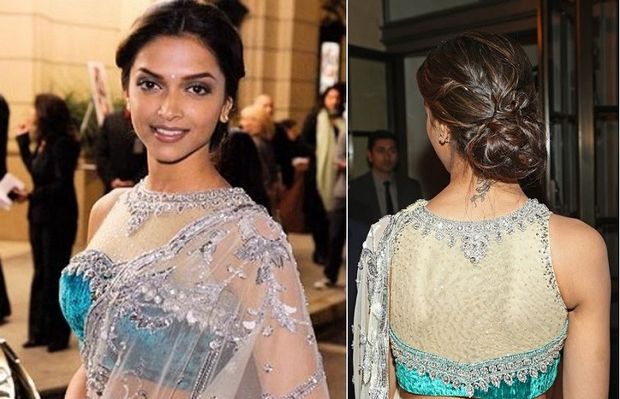 you can settle for a wide U back designer blouse with elbow length sleeves. For a more professional look, you can settle for back covered, Chinese collar blouses with short sleeves. For a more casual look halter or sleeveless blouses are the best pairing you can give to your sarees. In case you are aiming to go for a party look, there is no better an option than the Backless Blouse Designs.
The phenomenon in the form of backless blouses:
Backless blouses are stunning in their own rights. They not only turn heads, but are also very versatile. You can use it to play your look up, or give it a sophisticated classy touch. These backless blouses can be made out of a variety of materials. These include- different kinds of Silks, Tussars, Velvets, Satins, Linen or cotton, Brocade, chiffons, etc.
Each of these materials, give their own unique touch and look to these blouses and pack them pair worthy, with equally Beautiful Sarees. The back less blouses are best worn at celebratory occasions, parties and corporate gatherings.

You can find a variety of back less blouse design ideas online. Find the one that you think suits you best and give them a try, if you haven't got one yet.